Are battery electric tractors a waste of time?
With all the pressures that modern farmers face, and the fact that most agricultural emissions don't come from machinery, is there an argument to say there is little point in electrifying tractors?
Where do emissions in agriculture come from?
A report from the United Nation's Food and Agriculture Organization (FAO) identified the leading sources of greenhouse gas (GHG) emissions from the agricultural sector: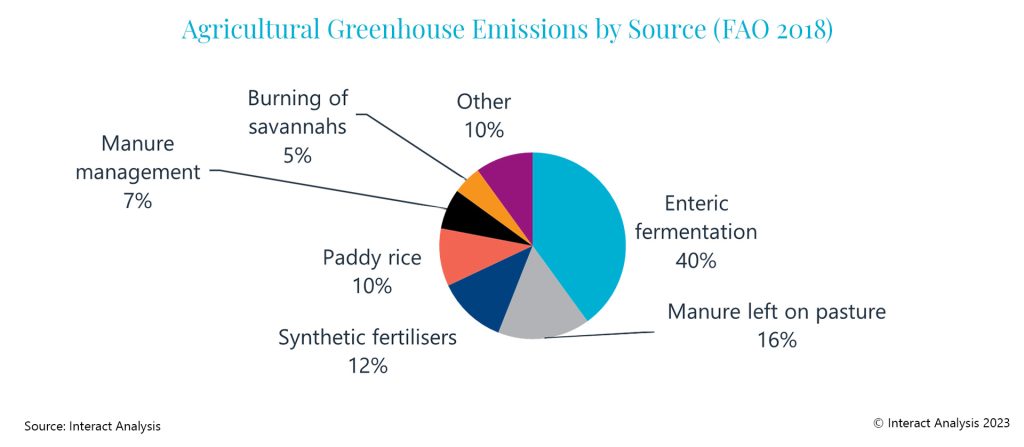 The top source – enteric fermentation or cow burps – represents 40% of total GHG emissions from the agricultural sector, followed by manure left on pastures, and the use of synthetic fertilisers. Emissions from machinery don't even make it into the top 5, so it is worth asking if changing the powertrain of agricultural machinery to emit less pollution is the best way to reduce emissions from the sector?
Farmers have it tough
Farmers – wherever they may be – face multiple pressures. From basic economic survival in a period of volatile crop prices and energy costs, to the impact of global warming, there is often little time or appetite to change processes and overhaul machinery.
Here are some of the common issues farmers face:
Adverse and unpredictable weather events caused by global warming.

Maintaining profitability and basic economic survival in an increasingly volatile global economy.

Coping with the burdens of food safety, animal welfare and environmental standards.

Adapting to new methods and technologies.

Meeting consumer and industrial demand for different food and input crops.
Farmers have a range of tools to help them deal with these challenges. Machinery – typically tractors and implements – are relied upon heavily and there are some very specific requirements for it:
It must perform in all weather conditions.

It must be reliable/repairable.

It must be ready to operate at any time.

It must be ready to work for long hours.

It might have an operational life of 15+ years.
Given all of the above, asking farmers to replace their primary piece of mechanization – the tractor – with an electric version may be a substantial challenge to how they operate and may not benefit the wider environment as much as other changes such as animal feed formulations that reduce enteric fermentation.
So why are manufacturers investing in electric tractors?
Despite the very real challenges that tractor electrification faces, manufacturers and suppliers are developing commercial solutions. Why might this be? Here are a few reasons why:
For some markets, there will be a legislative push to reduce GHG emissions and particulate pollution from agricultural equipment.

As the cost of electric tractors decreases, there will be certain duty cycles – for example, light yard work – where there is a better cost of ownership to going electric versus continuing with diesel.

Many farmers have a focus on sustainability and preserving the environment. For some – particularly those who might farm organic produce – the use of zero emission equipment is part of a wider identity and commitment to their customers to be custodians of the environment.

In some emerging markets – for example, India – access to diesel fuel in rural areas in poor versus access to electricity. Here, if there is no existing mechanization, it may make more sense to use electric tractors.
Are these reasons enough to push strong adoption of electric solutions? Unfortunately, the answer is no. From our own research at Interact Analysis we forecast that uptake of battery electric tractors will be slow. Even allowing for early adopters, the intense duty cycle of many tractor applications, the lack of charging infrastructure and the high upfront cost will prevent many farmers from buying them. Only 5% of tractors sold globally in 2030 are forecast to be fully battery electric.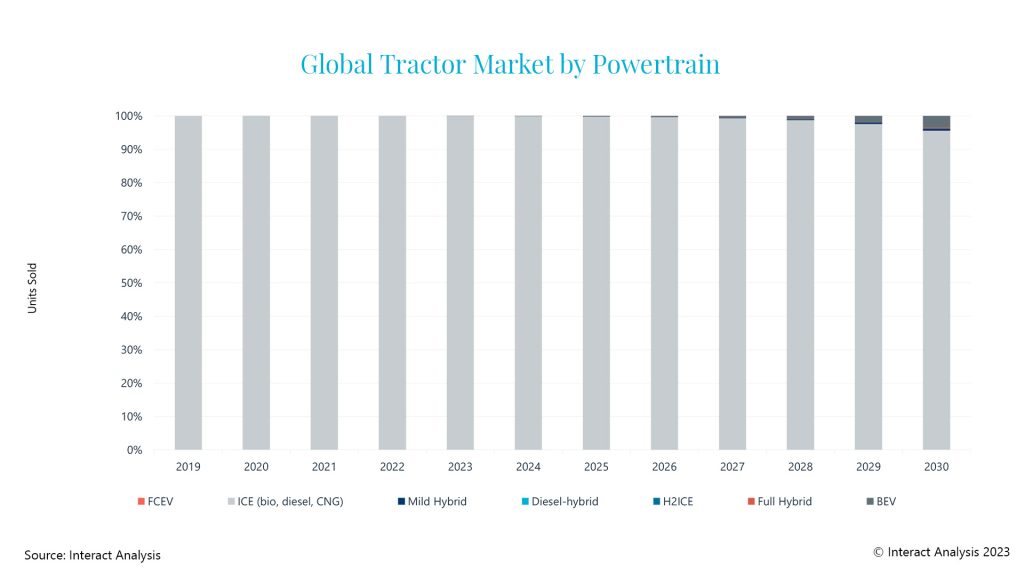 What is going to happen next
In reality, emission reduction in agriculture is going to be more about fertilizer reduction, reduction in the amount of animals reared and/or reducing enteric fermentation, and manure management than it is about changes in how tractors are powered. That said, improving the efficiency of tractors is clearly important and, if the fuel they use can be more sustainable, so be it. At Interact Analysis we think tractors will use a mix of powertrains in the future, with electric being one part, and a much greater part being engines that use biofuels or green hydrogen. The choice of biofuel will become hyper-localised and dependent on the local crops or availability of biomethane.
For more information on our Off-Highway market, reach out to Senior Research Director Alastair Hayfield, or download our report brochures: